A Guide To
Charleston's Alleys & Secret Passageways
Charleston is a city steeped in history and tradition. From its cobblestone streets to its antebellum mansions, there is no shortage of places to explore. But for those who are looking for something a little more off the beaten path, Charleston's alleys and passageways are a must-see.
These hidden gems offer a glimpse into the city's past and present. Some are lined with historic buildings, while others are simply narrow walkways that connect two streets. But all of them are sure to add a touch of mystery and intrigue to your visit to Charleston.
So next time you're in the city, be sure to take some time to explore its secret alleys and passageways. You might just be surprised at what you find. Below are a few of our favorites to get you started on your journey!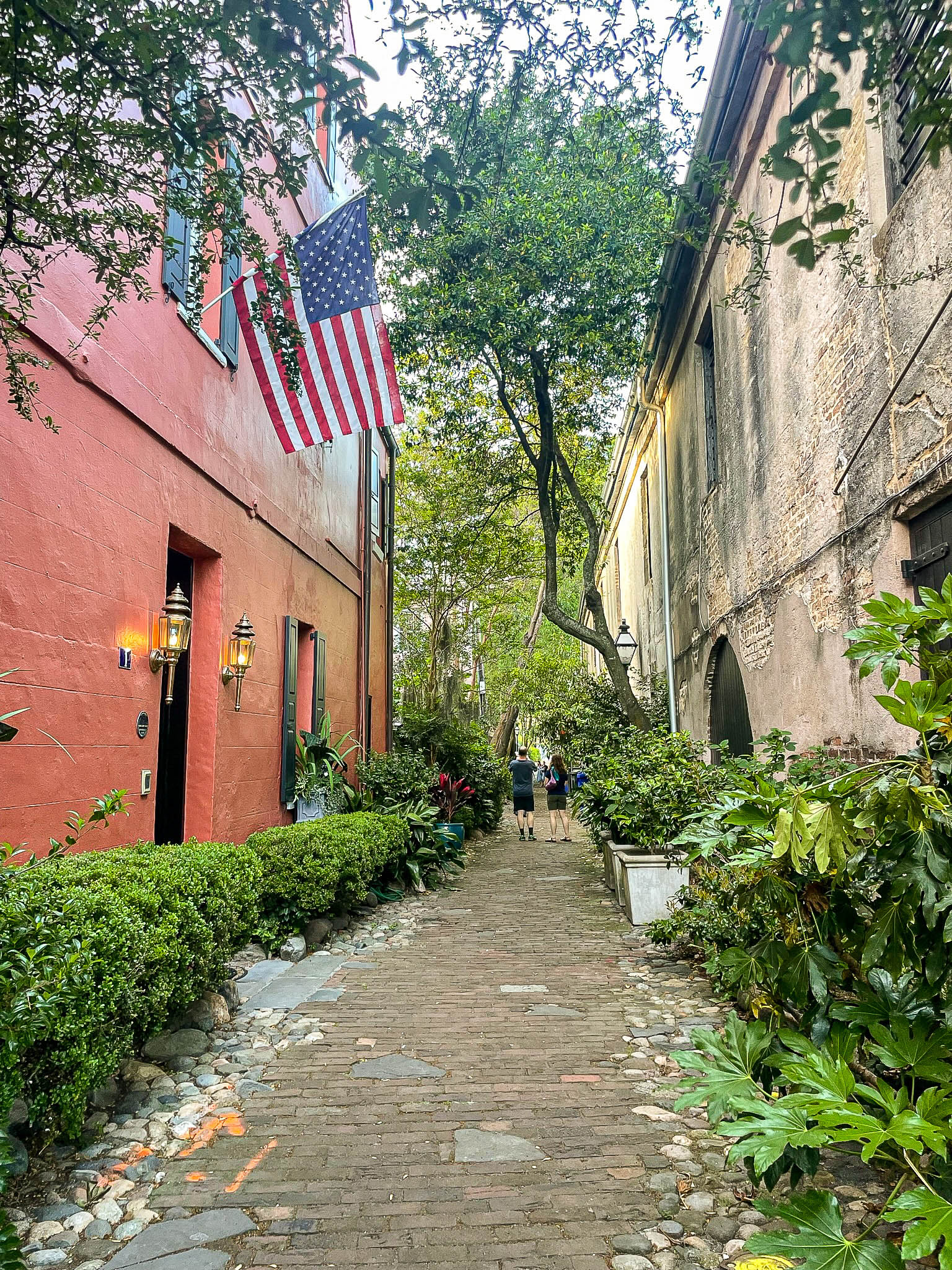 Philadelphia Alley
This shaded one-block path sits between Church Street and State Street. Originally, it was named "Cow Alley," most likely due to the livestock that occupied the space. It was later changed to "Philadelphia" to honor the help given by Philadelphia after the devastating fire of 1810. Locals have been known to refer to it as "Dueler's Alley," as it was seen as the ideal place for a duel in the 1800's. This was due to its high walls and limited access at both ends. Ghost tours commonly stop here and share stories of some of the more gory duels. Find Philadelphia Alley here.
Stoll's Alley
Stoll's Alley is only six feet in width at its eastern end, so visitors tend to pass by this path without a second glance. If you are observant enough, you won't be disappointed by this charming shaded alley with greenery and wrought iron gates. Four of the gates were crafted by Philip Simmons who is widely recognized as the most important Charleston ironworker of the 20th Century. Pieces of his craft are kept in museums all over the United States, and it is truly a treasure to be able to walk through Charleston's alleys and experience his work in its original home. This alley is a relaxing break from the busyness of Church Street and East Bay Street where its entrances sit. Find Stoll's Alley here.
Longitude Lane
Longitude Lane is ten feet wide and connects Church and East Bay streets. In the early 1700s, it was known as "Jenkins Alley," named after planter John Jenkins, whose residence adjoined Church Street. In the 1760s, it became "Longitude Lane," a nod to Charleston's maritime trade hub just across the street. Longitude Lane was beautified with flagstone and cobblestone in the 1930s and is thought to be one of the loveliest passages in the city today. Find Longitude Lane here.
Bedon's Alley
Deeds as early as 1733 refer to Bedon's or Beadon's Street or Alley, named for George Beadon (Bedon), a merchant who owned land in the little street. By the 1730s it was called Middle Lane and was used for mercantile stores and ship chandleries. However, it was damaged by fires in 1740 and 1778. Tradition holds that America's oldest musical organization, the St. Cecilia Society, was founded in the house at No. 5. Most of the small brick houses on the east side of the street were built as outbuildings for the large establishments in Rainbow Row. These structures were rescued in the 1920s and 1930s by Susan Pringle Frost and renovated as modern dwellings with detailing and landscape treatments in the Colonial Revival style. Find Bedon's Alley here.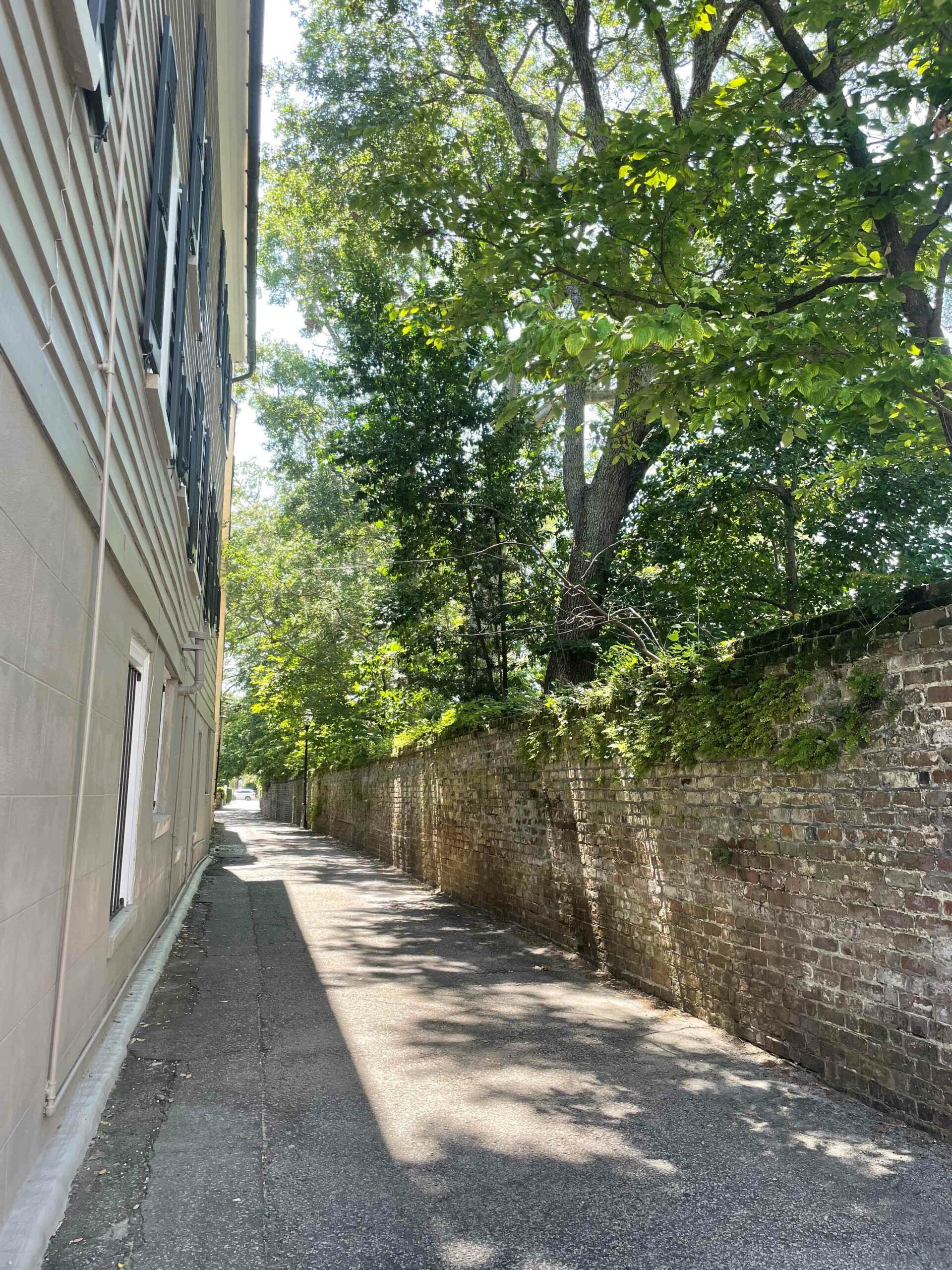 Price's Alley
Price's Alley was once a swampy marshland and connects Meeting and King Streets below Tradd Street. It was one of the earliest landfill projects in the city and was originally named after Humphry Sommers but was renamed in 1749 after Hopkins Price who bought the property. Find Price's Alley here.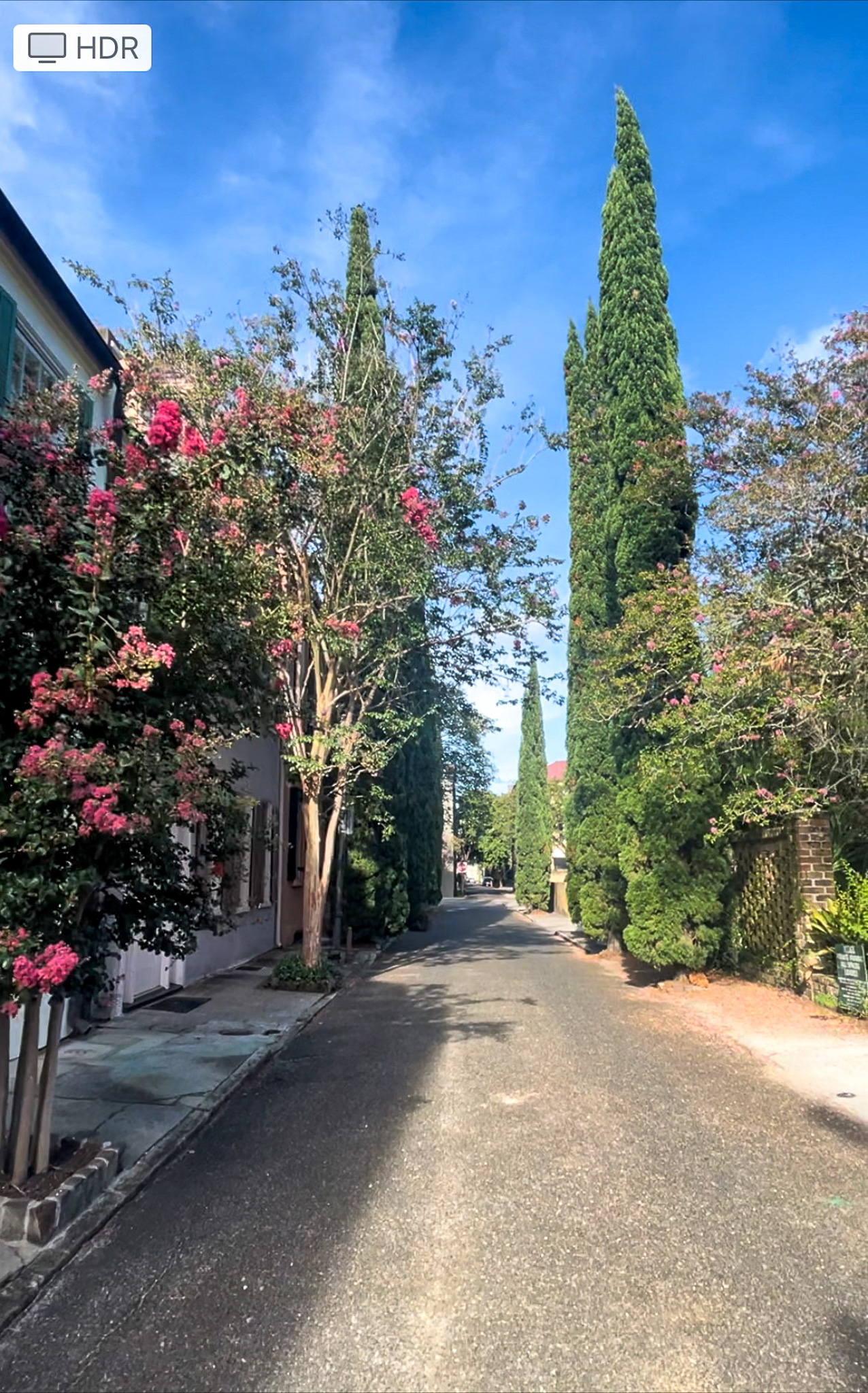 St. Michael's Alley
St. Michael's Alley runs between Meeting and Church streets. It is named after the Episcopal church on the alley's northern side and was once a common spot for dueling. In fact, there was a mortally wounded individual in a 1786 duel. When you explore the alley, be sure to take note of the house at No. 9 that was built in 1913 by DuBose Heyward, whose novel, Porgy, was later made into the opera Porgy and Bess. Find St. Michael's Alley here.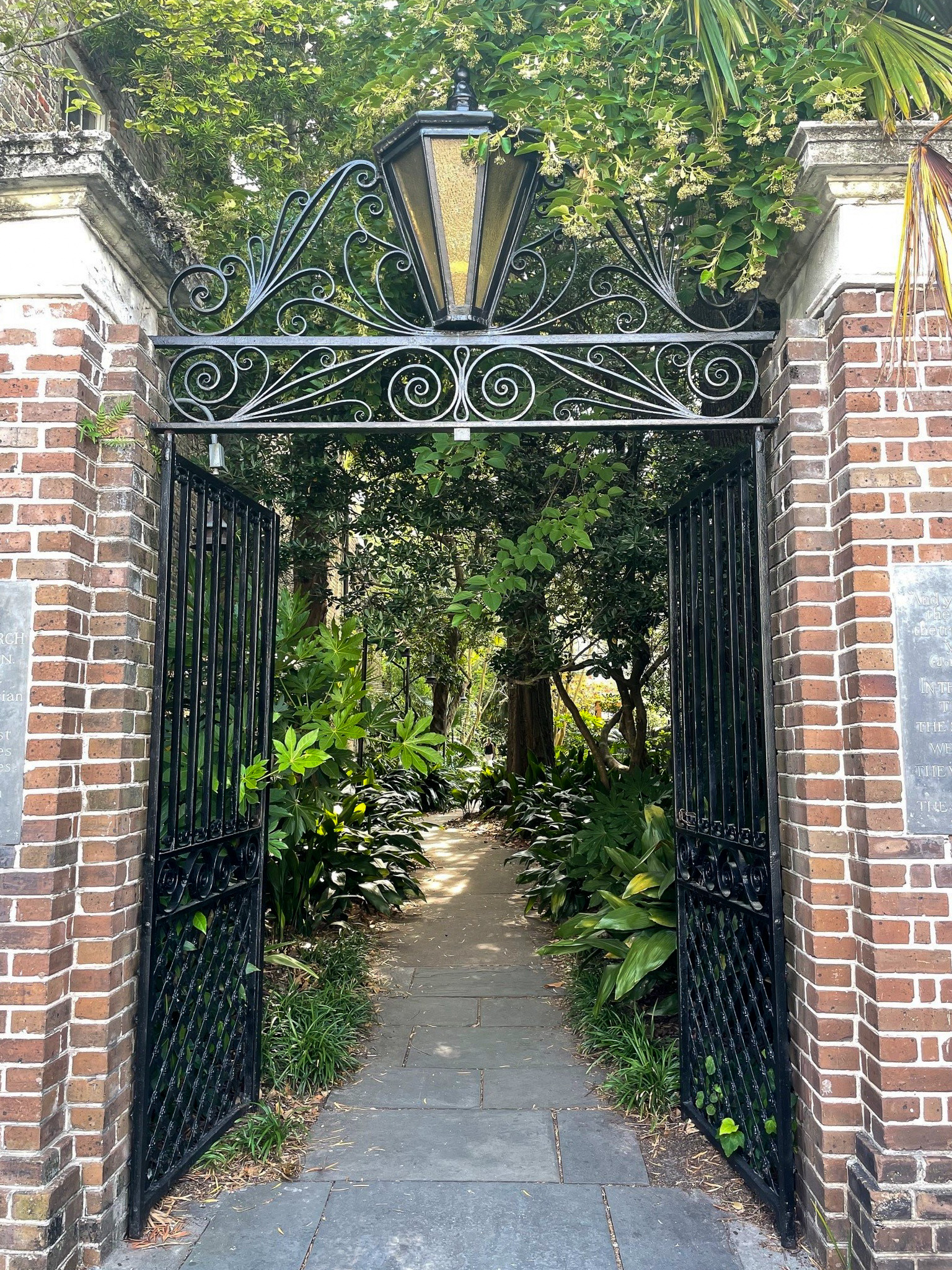 Gateway Walk
The Gateway Walk is also referred to as the Unitarian Church Graveyard Pathway, as it starts in the churchyard of the oldest Unitarian Church. The walkway extends from Archdale Street through the Gibbes Museum courtyard and down to Philadelphia Alley. Part of the walkway was designed by landscape architect Loutrel Briggs and the Garden Club of Charleston in 1930. Along the walkway you will find a plaque from the Garden Club that reads: "Through handwrought gates alluring paths lead on to pleasant places, where ghosts of long-forgotten things have left elusive traces." Find the Gateway Walk here.
Zig Zag Alley
Zig Zag Alley is one of the shortest streets in Charleston and got its name for obvious reasons. The street even has a complete 90-degree turn! It has been said that the Zig Zag street sign is the most stolen sign in the city! Find Zig Zag Alley here.
Fulton Lane
One of Charming Inns' own Fulton Lane Inn sits next to a quaint, quiet alley. This path is nestled right in the heart of the city, where it's just close enough to the hustle and bustle of upper King Street, but tucked away so guests enjoy relaxing and quiet nights. From here you can walk to the Charleston Market, Waterfront Park, or many famed downtown restaurants.
This is just a short list of all Charleston's alleys and secret passageways. If you would like to learn more, we suggest you explore with Lowcountry Walking Tours on their Alleys & Hidden Passages tour.